Acrylic 'Glass' Prints
Acrylic Face Mounted Prints
Acrylic face mounting enhances the contrast, adds sharpness and colour saturation to photographic prints for a gloss look unobtainable by any other framing method. Acrylic face mounts are a truly stunning, unique product and will be the focal point for any room.
The process of bonding photographs to acrylic 'glass' (Plexiglass) protects the image from dirt, scratching and premature fading. This framing technique is widely displayed in museums and galleries throughout the world and remains one of the most impressive ways to showcase an image.
When light hits the layer of acrylic, the reflection on the print's surface is completely different from when a print is framed with general-purpose glass. With this unique production method the 'depth' and colour saturation of the image is optimised due to the clarity of acrylic glass. As a result the colours seem more brilliant, intense and direct, bringing a whole new dimension to the print.
At Gusha face-mounting of your print creates a permanent, smooth fusion of print and 6mm acrylic glass.  The technique creates an airtight bond of the print's front side to the back of acrylic. For a clean finish, the final assembly involves attaching a discrete polyester sheet behind the print.  A hanging system is then attached and acts as a spacer to provide that "floating" illusion of your print when mounted to the wall.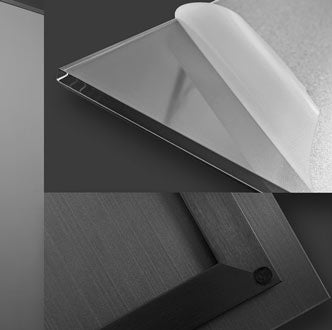 Gusha 'Glass' Prints - Key Features
6mm thick acrylic (perspex) sheets with polished edges.
Printed with Canon 4100 using industry leading nine colour inkset on archival gloss media.
The back of the acrylic mount features a hanging system which floats the acrylic off the wall by approximately 20mm.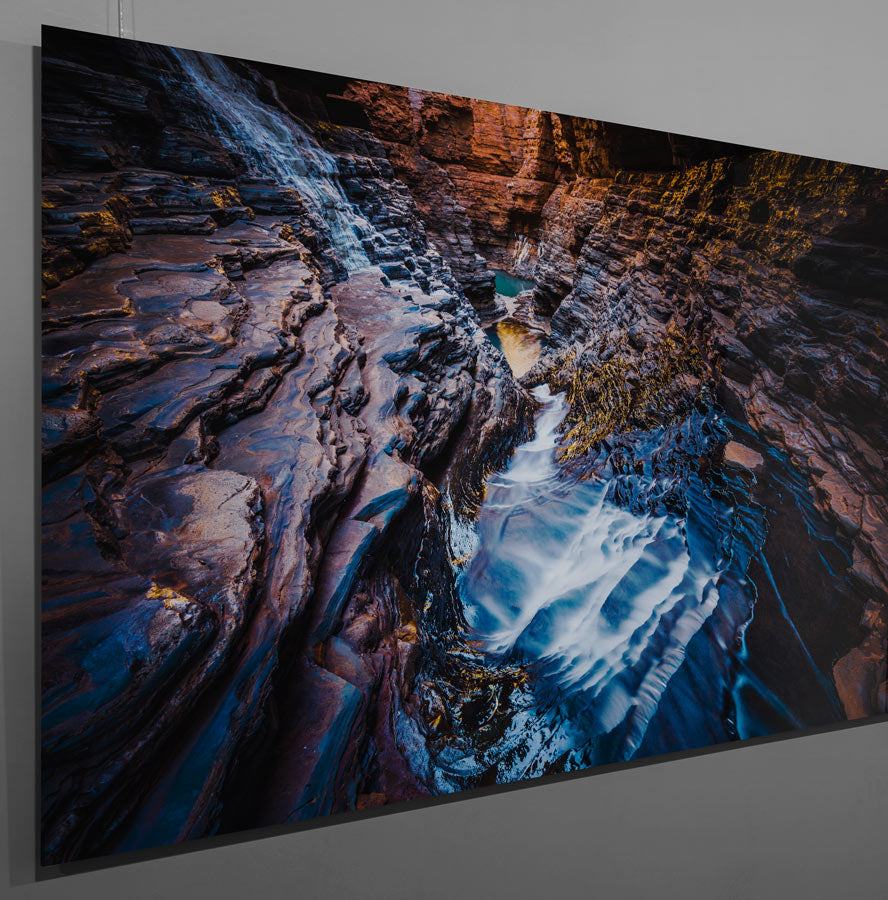 Longevity of Face Mounted Prints?
We use Canon archival inks to create prints that are vibrant and can last 75 years when displayed in optimal conditions. A key feature of our prints is that we print on an acid free media specifically designed for face mounting prints. The face mounting process seals the print from moisture and contaminants in the atmosphere, and the acrylic also filters UV light. Furthermore, the Shinkolite acrylic we use is of the highest quality being made in Germany and rated at over 30 years in outdoor conditions.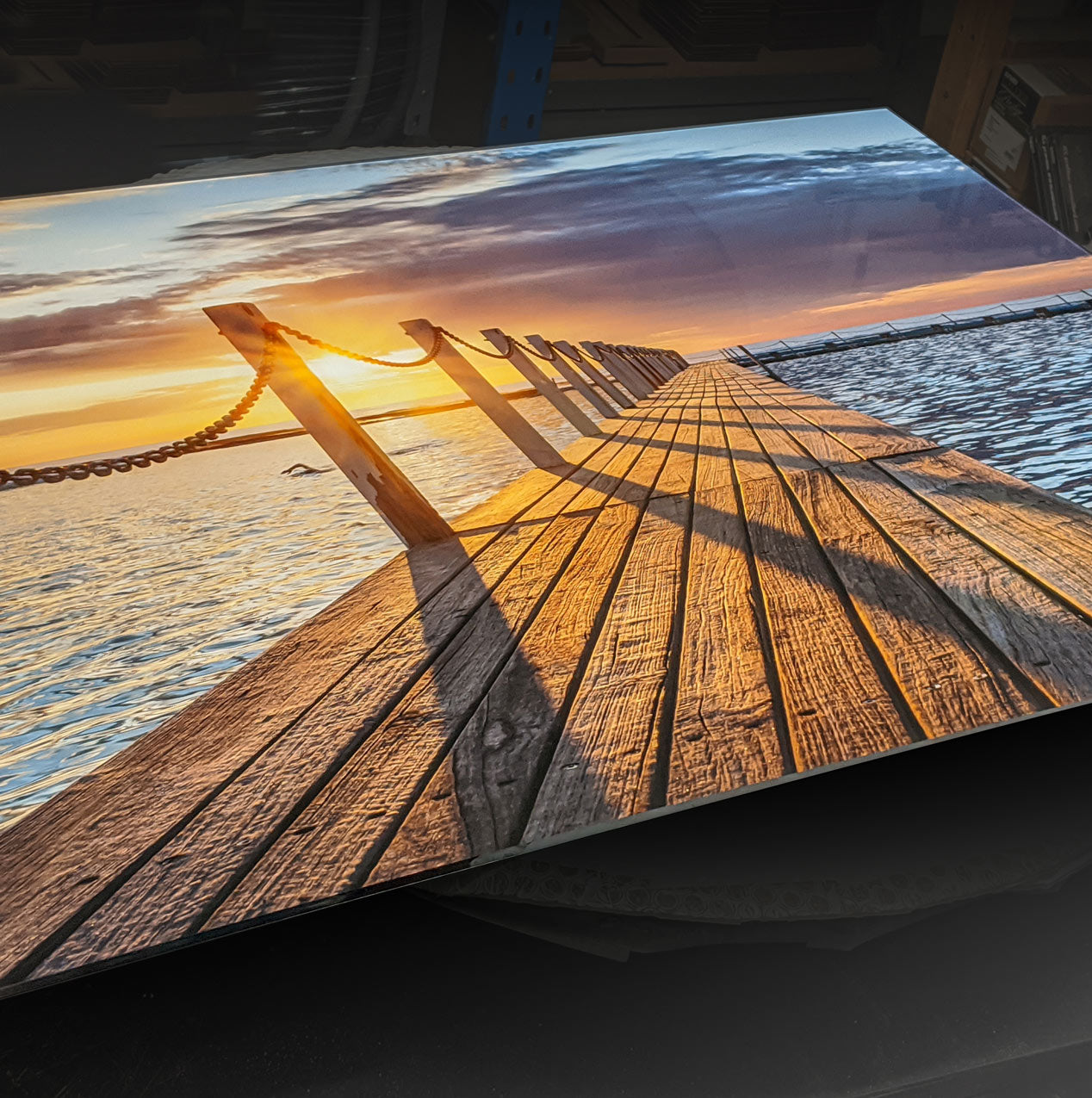 Acrylic or glass prints?
Using UV flatbed printing, it's possible to print directly onto conventional glass rather than mount to acrylic. However, there are a couple of important differences between face mounting prints to acrylic and printing directly to glass. At Gusha we first print to a gloss media and then apply to acrylic. We believe a better print is created as the media we use holds more ink than what can be adhered directly to glass, ie a glass print. Richer colour, smooth tones and gradations, better contrast is the result.
Secondly, most glass has less clarity than acrylic, and has a greenish tint that can reduce brightness of the underlying artwork. This is also why the edges of glass appear green in colour. In conventional picture framing a common upgrade is to select acrylic rather than glass to save weight but also to reduce this problem. Museums and those wanting the best picture framing will choose acrylic rather than glass as it has superior clarity.
Acrylic 'Glass' Print Feedback
DEAN - 'GLASS' PRINT

Hi Angus, I have received the print and would just like to say how good it looks! The finish and hidden mounting system is beautiful.

NAOMIE XX

My photo arrived today and I'm totally blown away!! What an absolutely stunning job you've done!! I can't begin to THANK YOU enough.

Kindest of kind regards

I LOVE IT!! 

NICOLE - 'GLASS' PRINT

Hi there, My husband, Matthew, recently ordered a 36in x 24in metallic acrylic print for our wedding anniversary from you guys - its just amazing so thank you.

It is so amazing I'm interested in getting more prints for a few of our other walls...
'Why make anything easy when you can make it hard for yourself - the definition of craftsmanship.'
Kevin McCloud